Glenville Donegal
Glenville Donegal
Born 20 June 1969 (Age 23 at debut)
Position: Forward
(Diamonds player #15)
Total appearances 52 – 26 goals
(35 League, 2 FA Cup, 5 FA Vase, 6 League Cup, 4 Hillier Senior Cup)
Debut:
31 August 1992 (Away Grantham Town)
Final game:
27 April 1993 (Away Kettering Town)
Born in Northampton, Glenville started his career with Northampton Town, progressing through the youth team and into the first team as an 18 years old striker. He scored 3 goals in 20 League appearances before joining Aylesbury Town in the summer of 1989. In two seasons at Haywood Way, his strike rate became quite impressive, but he moved to Maidstone United in August 1991 just after the start of the new season. The 1991/1992 season was to be the last for the Stones as they were declared bankrupt and were forced to resign from Division 4 of the Football League on 25 March 1992 after just 36 games. Roger Ashby brought him to Nene Park in July 1992, and he made his debut replacing Ollie Kearns in attacks for Diamonds 4th game of the season against Grantham Town. He ended that first season as Diamonds top scorer with 26 goals, but elected to leave at the end of the season in order to emigrate and set up a business in New South Wales, Australia.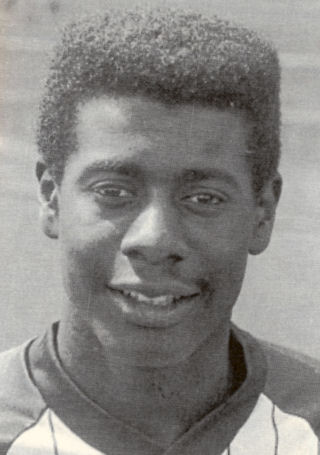 Appearances
1992/1993
| | | | |
| --- | --- | --- | --- |
| BHM | 31.8.92 | Grantham Tn (A) | |
| BHM | 5.9.92 | Bridgnorth Tn (H) | 1 goal |
| BHM | 9.9.92 | Hinckley Town(A) | |
| FAC1q | 12.9.92 | Long Buckby (A) | 1 goal |
| BHM | 19.9.92 | Weston-s-Mare(A) | |
| FAC2q | 26.9.92 | Hednesford Tn (A) | |
| FAVp | 3.10.92 | AnsteyNomads(H) | 1 goal |
| CSC1/1 | 6.10.92 | Atherstone Utd(H) | 2 goals |
| BHM | 10.10.92 | Bridgnorth Tn (A) | |
| HSC1 | 13.10.92 | Brackley Town (H) | 2 goals |
| BHM | 17.10.92 | Yate Town (H) | |
| CSC1/2 | 20.10.92 | Atherstone Utd(A) | 1 goal |
| BHM | 27.10.92 | Redditch Utd (H | |
| FAV1 | 31.10.92 | Halesowen Hrs(H) | 2 goals |
| FAV1r | 3.11.92 | Halesowen Hrs(A) | 1 goal |
| BHM | 7.11.92 | Sutton Coldf'ld (A) | |
| CSC2 | 10.11.92 | Buckingham Tn(H) | 1 goal |
| BHM | 14.11.92 | Barri (H) | |
| BHM | 17.11.92 | GranthamTn (H) | 2 goals |
| FAV2 | 21.11.92 | Gresley Rvrs (H) | 1 goal |
| FAV2r | 24.11.92 | Gresley Rvrs (A) | |
| BHM | 28.11.92 | Evesham Utd (H) | 1 goal |
| BHM | 5.12.92 | Dudley Town (A) | |
| BHM | 12.12.92 | Newport AFC (H) | |
| BHM | 19.12.92 | Gresley Rvrs (A) | 1 goal |
| BHM | 28.12.92 | Kings Lynn (H) | |
| BHM | 2.1.93 | Bilston Town (A) | |
| HSC2 | 6.1.93 | Stewarts&Lloyds(H) | |
| BHM | 9.1.93 | Stourbridge (H) | 1 goal |
| CSC3 | 12.1.93 | Gresley Rvrs (H) | 1 goal |
| BHM | 16.1.93 | Nuneaton Boro(A) | |
| BHM | 19.1.93 | Hinckley Town (H) | 1 goal |
| BHM | 23.1.93 | Bedworth Utd (H) | |
| CSCQ | 26.1.93 | Stourbridge (A) | 1 goal |
| BHM | 30.1.93 | Tamworth (A) | |
| CSCQr | 2.2.93 | Stourbridge (H) | |
| BHM | 6.2.93 | Dudley Town (H) | 1 goal |
| HSCSF | 9.2.93 | Long Buckby (A) | |
| BHM | 13.2.93 | Yate Town (A) | |
| BHM | 20.2.93 | Weston-s-Mare(H) | 1 goal |
| BHM | 6.3.93 | Forest Green (H) | 1 goal |
| BHM | 13.3.93 | Barri (A) | |
| BHM | 18.3.93 | Nuneaton Boro(H) | |
| BHM | 27.3.93 | Tamworth (H) | as sub |
| BHM | 30.3.93 | Leicester Utd (A) | |
| BHM | 3.4.93 | Bedworth Utd (A) | |
| BHM | 10.4.93 | Leicester Utd (H) | |
| BHM | 12.4.93 | Kings Lynn (A) | |
| BHM | 17.4.93 | Sutton Coldf'ld (H) | 1 goal |
| BHM | 22.4.93 | Stourbidge (A) | 1 goal |
| BHM | 24.4.93 | Evesham Utd (A) | as sub |
| HSCF | 27.4.93 | Kettering Town (A) | |