Ollie Kearns
Ollie Kearns
Born 12 June 1956 (Age 36 at debut)
Position: Forward
(Diamonds player #9)
Total appearances 36 – 16 goals
(26 League, 1 FA Cup, 2 FA Vase, 4 League Cup, 3 Hillier Senior Cup)
Debut:
22 August 1992 (Home Bilston Town)
Final game:
1 May 1993 (Home Gresley Rovers)
The Banbury born striker began his career with his local side, Banbury United and quickly came to the attention of clubs from the Football League. He joined struggling Third Division club Reading early in 1977 but was unable to prevent their relegation in the same season. In May 1979 however, he helped his side win the Division Four title. He scored some 40 goals in 86 appearances for the Royals, before move to Oxford United in 1980. The arrival of Jim Smith as Oxford manager in March 1982 signalled the end of his time at the Manor Ground, and he joined his brother at Third Division Walsall in the summer. In July 1983, he moved on again, this time joining Hereford United where he spent some 4½ years, scoring some 58 goals in 170 appearances before joining Wrexham. He finished his Football League career with the Welsh club – a career that saw him score 127 goals in 358 appearances.
He dropped down to non-league football, enjoying a short spell with Kettering Town in August 1990 before joining Rushden Town. For the 1991/1992 season, he moved to Worcester City, and it was from Worcester that he became one of Roger Ashby's first signings for the newly formed Rushden & Diamonds in July 1992. He became the first Diamonds player to score a league goal when he netted in the inaugural fixture against Bilston Town the following month. He played throughout that inaugural season but was released by Ashby at the end of that season, joining Racing Club Warwick for a final season before hanging up his boots at the age of 37.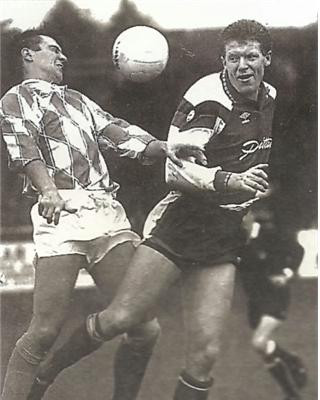 He currently works as a property developer in the Oxford area.
Appearances
1992/1993
| | | | |
| --- | --- | --- | --- |
| BHM | 22.8.92 | Bilston Town (H) | 1 goal |
| BHM | 25.8.92 | Redditch Utd (A) | |
| FACp | 29.8.92 | Desborough (H) | |
| CSC1/1 | 6.10.92 | Atherstone Utd (H) | 1 goal |
| BHM | 10.10.92 | Bridgnorth Tn (A) | 2 goals |
| HSC1 | 13.10.92 | Brackley Town (H) | 1 goal |
| BHM | 17.10.92 | Yate Town (H) | |
| CSC1/2 | 20.10.92 | Atherstone Utd(A) | 1 goal |
| BHM | 24.10.92 | Forest Green (A) | 2 goals |
| BHM | 27.10.92 | Redditch Utd (H | |
| FAV1 | 31.10.92 | Halesowen Hrs (H) | |
| FAV2r | 24.11.92 | Gresley Rvrs (A) | |
| BHM | 28.11.92 | Evesham Utd (H) | as sub |
| BHM | 28.12.92 | Kings Lynn (H) | as sub |
| BHM | 2.1.93 | Bilston Town (A) | |
| HSC2 | 6.1.93 | Stewarts&Lloyds(H) | 2 goals |
| BHM | 9.1.93 | Stourbridge (H) | 1 goal |
| CSC3 | 12.1.93 | Gresley Rvrs (H) | 1 goal |
| BHM | 16.1.93 | Nuneaton Boro(A) | |
| BHM | 19.1.93 | Hinckley Town (H) | as sub |
| CSCQr | 2.2.93 | Stourbridge (H) | as sub |
| BHM | 6.2.93 | Dudley Town (H) | as sub |
| BHM | 13.2.93 | Yate Town (A) | as sub |
| BHM | 20.2.93 | Weston-s-Mare(H) | as sub |
| BHM | 24.2.93 | Newport AFC (A) | 1 goal |
| BHM | 27.2.93 | RC Warwick (A) | |
| BHM | 6.3.93 | Forest Green (H) | as sub |
| BHM | 13.3.93 | Barri (A) | as sub |
| BHM | 23.3.93 | RC Warwick (H) | 1 goal |
| BHM | 27.3.93 | Tamworth (H) | |
| BHM | 12.4.93 | Kings Lynn (A) | as sub |
| BHM | 17.4.93 | Sutton Coldfield (H) | as sub |
| BHM | 22.4.93 | Stourbidge (A) | as sub |
| BHM | 24.4.93 | Evesham Utd (A) | 1 goal |
| HSCF | 27.4.93 | Kettering Town (A) | as sub |
| BHM | 1.5.93 | Gresley Rovers (H) | 1 goal |