Aidy Mann
Aidy Mann
Born 12 July 1967 (Age 25 at debut)
Position: Midfielder
(Diamonds player #8)
Total appearances 130 – 44 goals
(84 League, 9 FA Cup, 8 League Trophy, 5 FA Vase, 14 League Cup, 10 Hillier Senior Cup)
Debut:
22 August 1992 (Home Bilston Town)
Final game:
6 May 1995 (Home Sudbury Town)
Attacking midfielder Adrian Mann, known as Aidy began his career at Northampton Town where he became the clubs youngest player during the 1983/1984 season at 16 years 297 days. He made over 100 appearance for the Cobblers before spells with Torquay United, Barnet and Newport County, before returning to local football with Northampton Spencer, where he ended hs professional dreams to combined van driving with football. He joined Diamonds at the start of their inaugural season in July 1992. He played in Diamonds first game, at home to Bilston Town on 22 August 1992, scoring his first goal for the club in their first ever FA Cup game when they hosted Desborough Town just one week later. The popular midfielder was noted for his red hair, and played 130 games for the club in the three seasons at Nene Park, scoring a creditable 44 goals.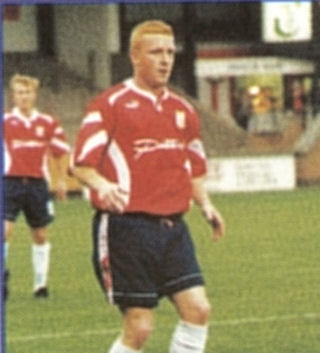 After leaving the Diamonds he joined Gresley Rovers in May 1995, before spells with Raunds Town, Higham Town, Kettering Town and Bedford Town.
Aidy went into management, and his first appointment was with UCL Division One side Higham Town, where he became manager in February 1997. In his first season, he won the Championship, although promotion was not possible due to ground limitations. He left Higham in September 1999, and went one to spend two seasons in charge at Woodford United, and the 2002/2003 season at the helm of Cogenhoe United. On 21 July 2003, he became manager again at Higham Town, but in February 2004, left to become player manager at Long Buckby. He remained with the Bucks until January 2007, when he was dismissed, returning to Higham Town, and then Newport Pagnell Town as a player despite being in his forties. On 3 June 2009, he became assistant manager at Raunds Town, but following problems at Kiln Road, he left on 27 November 2009 to become manager of Rushden & Higham United, still making the odd substitute appearance at the age of 42. Shortage of players on 12 March 2013, saw him in the starting eleven at Harrowby Utd at the age of 45. He left the managerial post at Rushden & Higham in October 2014, but has continued to be involved behind the scenes at Hayden Road., and is currently the Rushden & Higham United chairman.
Appearances
1992/1993
BHM

22.8.92

Bilston Town (H)

BHM

25.8.92

Redditch Utd (A)

FACp

29.8.92

Desborough (H)

1 goal

BHM

31.8.92

Grantham Tn (A)

BHM

5.9.92

Bridgnorth Tn (H)

BHM

9.9.92

Hinckley Town(A)

FAC1q

12.9.92

Long Buckby (A)

BHM

19.9.92

Weston-s-Mare(A)

FAC2q

26.9.92

Hednesford Tn (A)

1 goal

FAVp

3.10.92

AnsteyNomads(H)

1 goal

CSC1/1

6.10.92

Atherstone Utd(H)

BHM

10.10.92

Bridgnorth Tn (A)

HSC1

13.10.92

Brackley Town (H)

BHM

17.10.92

Yate Town (H)

BHM

24.10.92

Forest Green (A)

BHM

27.10.92

Redditch Utd (H

FAV1

31.10.92

Halesowen Hrs(H)

FAV1r

3.11.92

Halesowen Hrs(A)

BHM

7.11.92

Sutton Coldf'ld(A)

CSC2

10.11.92

Buckingham Tn(H)

3 goals

BHM

14.11.92

Barri (H)

BHM

17.11.92

GranthamTn (H)

FAV2

21.11.92

Gresley Rvrs (H)

FAV2r

24.11.92

Gresley Rvrs (A)

BHM

28.11.92

Evesham Utd (H)

BHM

5.12.92

Dudley Town (A)

1 goal

BHM

12.12.92

Newport AFC (H)

BHM

19.12.92

Gresley Rvrs (A)

BHM

28.12.92

Kings Lynn (H)

CSC3

12.1.93

Gresley Rvrs (H)

as sub

BHM

19.1.93

Hinckley Town (H)

1 goal

BHM

23.1.93

Bedworth Utd (H)

CSCQ

26.1.93

Stourbridge (A)

1 goal

BHM

30.1.93

Tamworth (A)

CSCQr

2.2.93

Stourbridge (H)

1 goal

HSCSF

9.2.93

Long Buckby (A)

BHM

13.2.93

Yate Town (A)

1 goal

BHM

20.2.93

Weston-s-Mare(H)

BHM

24.2.93

Newport AFC (A)

2 goals

BHM

27.2.93

RC Warwick (A)

BHM

6.3.93

Forest Green (H)

BHM

13.3.93

Barri (A)

1 goal

BHM

18.3.93

Nuneaton Boro(H)

BHM

23.3.93

RC Warwick (H)

BHM

27.3.93

Tamworth (H)

BHM

30.3.93

Leicester Utd (A)

BHM

10.4.93

Leicester Utd (H)

as sub

1 goal

BHM

12.4.93

Kings Lynn (A)

as sub

BHM

17.4.93

Sutton Coldf'ld(H)

as sub

BHM

24.4.93

Evesham Utd (A)

as sub

HSCF

27.4.93

Kettering Town (A)

as sub

BHM

1.5.93

Gresley Rovers(H)

1 goal
1993/1994
| | | | |
| --- | --- | --- | --- |
| BHM | 21.8.93 | Clevedon Town(H) | |
| BHM | 24.8.93 | Tamworth (A) | |
| FACp | 28.8.93 | Rocester (A) | |
| BHM | 30.8.93 | Bedworth Utd (H) | |
| BHM | 4.9.93 | Stourbridge (A) | |
| DMCp/1 | 7.9.93 | Grantham Tn(A) | |
| FAC1q | 11.9.93 | Sutton Coldf'ld(H) | 1 goal |
| BHM | 14.9.93 | Kings Lynn (H) | 3 goals |
| BHM | 18.9.93 | Bridgnorth Tn (A) | 1 goal |
| DMCp/2 | 21.9.93 | Grantham Tn (H) | |
| FAC2q | 25.9.93 | Rothwell Town (H) | |
| FAC2qr | 28.9.93 | Rothwell Town (A) | |
| BHM | 2.10.93 | Dudley Town (A) | |
| FAC3q | 9.10.93 | BurtonAlbion (H) | 1 goal |
| HSC1 | 12.10.93 | Cogenhoe Utd (H) | |
| FAC4q | 23.10.93 | BromsgroveRvrs(H) | |
| DMC1/2 | 26.10.93 | Bedworth Utd (A) | |
| BHM | 30.10.93 | Redditch Utd (A) | 1 goal |
| BHM | 6.11.93 | Hinckley Town (H) | 1 goal |
| DMC2 | 9.11.93 | Cambridge City(H) | 1 goal |
| BHM | 13.11.93 | Bilston Town (H) | 1 goal |
| BHM | 20.11.93 | Tamworth (H) | |
| BHM | 27.11.93 | Stourbridge (H) | |
| HSC2 | 30.11.93 | Rothwell Town(A) | |
| BHM | 4.12.93 | Dudley Town (H) | |
| BHM | 12.2.94 | Evesham Utd (A) | |
| BHM | 19.2.94 | Newport AFC (H) | |
| BHM | 26.2.94 | Leicester Utd (H) | 2 goals |
| BHM | 1.3.94 | Bedworth Utd (A) | |
| BHM | 5.3.94 | Bilston Town (A) | |
| BHM | 8.3.94 | Bridgnorth Tn (H) | |
| BHM | 26.3.94 | Hinckley Town (A) | as sub |
| HSCSF | 29.3.94 | Kettering Town (H) | |
| BHM | 9.4.94 | RC Warwick (A) | |
| BHM | 12.4.94 | Grantham Tn (H) | |
| BHM | 16.4.94 | Armitage 90 (H) | 1 goal |
| HSCF | 26.4.94 | N'ton Spencer (H) | |
| BHM | 30.4.94 | Evesham Utd (H) | 1 goal |
| BHM | 2.5.94 | Forest Green (H) | 1 goal |
| BHM | 7.5.94 | Redditch Utd (H) | 2 goals |
1994/1995
FAT1rq

17.9.94

Hendon (H)

as sub

FAT1r

20.9.94

Hendon (A)

as sub

HSC1

27.9.94

Desborough (H)

2 goals

BHP

1.10.94

Gresley Rovers(A)

DMC1/1

4.10.94

Rothwell Town (H)

BHP

8.10.94

Crawley Town (H)

1 goal

FAT2q

15.10.94

Wembley (H)

1 goal

DMC1/2

18.10.94

Rothwell Town (A)

BHP

22.10.94

Dorchester Tn (A)

HSC2

25.10.94

N'ton Spencer (H)

BHP

29.10.94

Gloucester City(H)

1 goal

DMC2

8.11.94

Bedworth Utd (H)

1 goal

BHP

12.11.94

VS Rigby (H)

1 goal

BHP

19.11.94

Corby Town(A)

FAT3q

26.11.94

Crawley Town(H)

1 goal

BHP

3.12.94

Leek Town (A)

as sub

BHP

10.12.94

Halesowen Tn (H)

DMC3

14.12.94

Baldock Town (H)

BHP

17.12.94

Solihull Boro (H)

BHP

14.1.95

VS Rugby (A)

DMCS/1

28.2.95

Leek Town (H)

FAT3

4.3.95

Halesowen Tn (H)

as sub

BHP

11.3.95

Corby Town (H)

as sub

HSCSF

14.3.95

Rothwell Town (A)

BHP

18.3.95

Gloucester City(A)

as sub

FAT4r

28.3.95

Enfield (H)

as sub

1 goal

BHP

30.3.95

Gravesend&Nflt (H)

BHP

1.4.95

Atherstone Utd(H)

as sub

BHP

3.4.95

Hednesford Tn (A)

FATS/1

8.4.95

Woking (H)

1 goal

BHP

11.4.95

Hednesford Tn (H)

FATS/2

15.4.95

Woking (A)

as sub

BHP

17.4.95

Cambridge City(H)

BHP

22.4.95

Solihull Boro (A)

BHP

24.4.95

Chelmsford City(A)

BHP

29.4.95

Worcester City(A)

as sub

BHP

4.5.95

Sudbury Town (A)

BHP

6.5.95

Sudbury Town (H)

1 goal