Darrell Page
Darrell Page
Born ?? (Age 23 at debut)
Position: Defender
(Diamonds player #5)
Total appearances 114
(80 League, 9 FA Cup, 3 FA Trophy, 3 FA Vase, 11 League Cup, 7 Hillier Senior Cup, 1 Maunsell Cup)
Debut:
22 August 1992 (Home Bilston Town)
Final game:
5 November 1994 (Away Burton Albion)
Darrell was a member of the first ever Rushden & Diamonds team that faced Bilston Town in August 1992. He was an electrician by trade and had previously been with Rushden Town. He moved across to the new club, but had previously had a brief spell of football in New Zealand during 1991.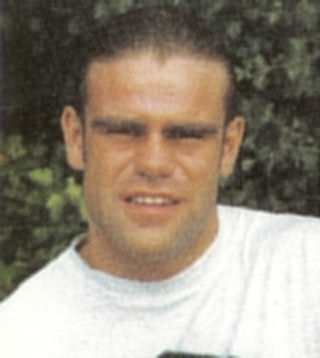 After over two seasons with the club, he was released to join Wealdstone in November 1994 before joining Raunds Town on April 1995. He is now retired from the game.
Appearances
1992/1993
| | | | |
| --- | --- | --- | --- |
| BHM | 22.8.92 | Bilston Town (H) | |
| BHM | 25.8.92 | Redditch Utd (A) | |
| FACp | 29.8.92 | Desborough (H) | |
| BHM | 31.8.92 | Grantham Tn (A) | |
| BHM | 5.9.92 | Bridgnorth Tn (H) | |
| BHM | 9.9.92 | Hinckley Town(A) | |
| FAC1q | 12.9.92 | Long Buckby (A) | |
| BHM | 19.9.92 | Weston-s-Mare(A) | |
| FAC2q | 26.9.92 | Hednesford Tn (A) | as sub |
| FAVp | 3.10.92 | Anstey Nomads(H) | |
| CSC1/1 | 6.10.92 | Atherstone Utd (H) | |
| BHM | 10.10.92 | Bridgnorth Tn (A) | |
| HSC1 | 13.10.92 | Brackley Town (H) | |
| BHM | 17.10.92 | Yate Town (H) | |
| CSC1/2 | 20.10.92 | Atherstone Utd(A) | |
| BHM | 24.10.92 | Forest Green (A) | |
| BHM | 27.10.92 | Redditch Utd (H | |
| FAV1 | 31.10.92 | Halesowen Hrs (H) | |
| FAV1r | 3.11.92 | Halesowen Hrs (A) | |
| BHM | 7.11.92 | Sutton Coldfield(A) | |
| BHM | 5.12.92 | Dudley Town (A) | |
| BHM | 12.12.92 | Newport AFC (H) | |
| BHM | 19.12.92 | Gresley Rvrs (A) | |
| BHM | 28.12.92 | Kings Lynn (H) | |
| BHM | 2.1.93 | Bilston Town (A) | |
| HSC2 | 6.1.93 | Stewarts&Lloyds(H) | |
| BHM | 9.1.93 | Stourbridge (H) | |
| CSC3 | 12.1.93 | Gresley Rvrs (H) | |
| BHM | 16.1.93 | Nuneaton Boro(A) | |
| BHM | 19.1.93 | Hinckley Town (H) | |
| CSCQ | 26.1.93 | Stourbridge (A) | |
| BHM | 30.1.93 | Tamworth (A) | |
| CSCQr | 2.2.93 | Stourbridge (H) | |
| BHM | 6.2.93 | Dudley Town (H) | |
| HSCSF | 9.2.93 | Long Buckby (A) | |
| BHM | 13.2.93 | Yate Town (A) | |
| BHM | 20.2.93 | Weston-s-Mare(H) | |
| BHM | 24.2.93 | Newport AFC (A) | |
| BHM | 27.2.93 | RC Warwick (A) | |
| BHM | 6.3.93 | Forest Green (H) | |
| BHM | 13.3.93 | Barri (A) | |
| BHM | 18.3.93 | Nuneaton Boro(H) | |
| BHM | 23.3.93 | RC Warwick (H) | |
| BHM | 27.3.93 | Tamworth (H) | |
| BHM | 30.3.93 | Leicester Utd (A) | |
| BHM | 3.4.93 | Bedworth Utd (A) | |
| BHM | 10.4.93 | Leicester Utd (H) | |
| BHM | 12.4.93 | Kings Lynn (A) | |
| BHM | 17.4.93 | Sutton Coldfield(H) | |
| BHM | 22.4.93 | Stourbidge (A) | |
| BHM | 24.4.93 | Evesham Utd (A) | |
| HSCF | 27.4.93 | Kettering Town (A) | |
| BHM | 1.5.93 | Gresley Rovers(H) | |
1993/1994
| | | | |
| --- | --- | --- | --- |
| BHM | 21.8.93 | Clevedon Town(H) | |
| BHM | 24.8.93 | Tamworth (A) | |
| FACp | 28.8.93 | Rocester (A) | |
| BHM | 30.8.93 | Bedworth Utd (H) | |
| BHM | 4.9.93 | Stourbridge (A) | |
| DMCp/1 | 7.9.93 | Grantham Town(A) | |
| FAC1q | 11.9.93 | Sutton Coldfield(H) | |
| BHM | 14.9.93 | Kings Lynn (H) | |
| BHM | 18.9.93 | Bridgnorth Town(A) | |
| DMCp/2 | 21.9.93 | Grantham Town(H) | |
| FAC2q | 25.9.93 | Rothwell Town (H) | |
| FAC2qr | 28.9.93 | Rothwell Town (A) | |
| BHM | 2.10.93 | Dudley Town (A) | |
| FAT2q | 16.10.93 | Burton Albion (H) | |
| DMC1/1 | 19.10.93 | Bedworth Utd (H) | |
| FAC4q | 23.10.93 | BromsgroveRvrs(H) | |
| DMC1/2 | 26.10.93 | Bedworth Utd (A) | |
| BHM | 30.10.93 | Redditch Utd (A) | |
| BHM | 6.11.93 | Hinckley Town (H) | |
| DMC2 | 9.11.93 | Cambridge City(H) | |
| BHM | 13.11.93 | Bilston Town (H) | |
| BHM | 20.11.93 | Tamworth (H) | |
| BHM | 27.11.93 | Stourbridge (H) | |
| BHM | 4.12.93 | Dudley Town (H) | |
| DMC2r | 7.12.93 | Cambridge City(A) | |
| BHM | 18.12.93 | Leicester Utd (A) | |
| BHM | 27.12.93 | VS Rugby (H) | |
| BHM | 1.1.94 | Grantham Town(A) | |
| BHM | 3.1.94 | RC Warwick (H) | |
| BHM | 8.1.94 | Armitage 90 (A) | |
| BHM | 15.1.94 | Sutton Coldfield(H) | |
| BHM | 22.1.94 | Forest Green (A) | |
| BHM | 26.1.94 | Newport AFC (A) | |
| BHM | 12.2.94 | Evesham Utd (A) | |
| BHM | 19.2.94 | Newport AFC (H) | |
| BHM | 26.2.94 | Leicester Utd (H) | |
| BHM | 1.3.94 | Bedworth Utd (A) | |
| BHM | 5.3.94 | Bilston Town (A) | |
| BHM | 8.3.94 | Bridgnorth Town(H) | |
| BHM | 12.3.94 | Yate Town (A) | |
| BHM | 19.3.94 | Weston-s-Mare(H) | |
| BHM | 23.3.94 | Clevedon Town(A) | |
| BHM | 26.3.94 | Hinckley Town (A) | |
| HSCSF | 29.3.94 | Kettering Town(H) | |
| BHM | 2.4.94 | VS Rugby (A) | |
| BHM | 9.4.94 | RC Warwick (A) | |
| BHM | 12.4.94 | Grantham Town(H) | |
| BHM | 16.4.94 | Armitage 90 (H) | |
| BHM | 23.4.94 | Sutton Coldfield(A) | |
| HSCF | 26.4.94 | N'ton Spencer (H) | |
| BHM | 30.4.94 | Evesham Utd (H) | |
| BHM | 2.5.94 | Forest Green (H) | |
| BHM | 7.5.94 | Redditch Utd (H) | |
1994/1995
| | | | |
| --- | --- | --- | --- |
| MCF | 2.8.94 | Peterboro Utd (H) | |
| BHP | 6.9.94 | Crawley Town (A) | |
| FAC1q | 10.9.94 | EastwoodHanley(A) | |
| FAT1rq | 17.9.94 | Hendon (H) | |
| FAT1r | 20.9.94 | Hendon (A) | |
| HSC1 | 27.9.94 | Desborough (H) | |
| BHP | 1.10.94 | Gresley Rovers (A) | |
| BHP | 5.11.94 | Burton Albion (A) | |