Jon Flower
Jon Flower
Born 9 December 1964 (Age 27 at debut)
Position: Defender
(Diamonds player #4)
Total appearances 137 – 15 goals
(94 League, 8 FA Cup, 6 FA Trophy, 5 FA Vase, 14 League Cup, 9 Hillier Senior Cup, 1 Maunsell Cup)
Debut:
22 August 1992 (Home Bilston Town)
Final game:
26 April 1995 (Away Sittingbourne)
Defender Johannes "Jon" Flower was signed by Roger Ashby for the newly formed Rushden & Diamonds in the summer of 1992. He had played for local clubs Brixworth, British Timken and Corby Town, before a short period in the late 1980's with Sheffield United. He never played a first team game for the Blades, but during his stay, went on loan to Aldershot at the beginning of 1990, before signing for the Hampshire club in the summer. While with the Shots, the club went out of business before the end of the season, and he signed for Aylesbury Town for the following season. Roger Ashby brought the central defender to Nene Park in the July 1992, and Jon captained the side in their first ever League game in August 1992.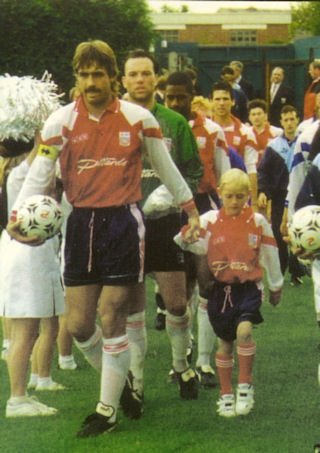 By trade, Jon was an HGV tanker driver, and he went on to make 137 appearances for the club during three seasons before his contract was terminate in September 1995. He went on to play for Raunds Town before retiring from the game.
Appearances
1992/1993
| | | | |
| --- | --- | --- | --- |
| BHM | 22.8.92 | Bilston Town (H) | |
| BHM | 25.8.92 | Redditch Utd (A) | |
| FACp | 29.8.92 | Desborough (H) | |
| BHM | 31.8.92 | Grantham Tn (A) | |
| BHM | 5.9.92 | Bridgnorth Tn (H) | |
| BHM | 19.9.92 | Weston-s-Mare(A) | |
| FAC2q | 26.9.92 | Hednesford Tn (A) | |
| FAVp | 3.10.92 | AnsteyNomads(H) | |
| CSC1/1 | 6.10.92 | Atherstone Utd (H) | |
| BHM | 10.10.92 | Bridgnorth Tn (A) | |
| HSC1 | 13.10.92 | Brackley Town (H) | |
| BHM | 17.10.92 | Yate Town (H) | |
| CSC1/2 | 20.10.92 | Atherstone Utd(A) | 1 goal |
| BHM | 24.10.92 | Forest Green (A) | |
| BHM | 27.10.92 | Redditch Utd (H | |
| FAV1 | 31.10.92 | Halesowen Hrs (H) | 1 goal |
| FAV1r | 3.11.92 | Halesowen Hrs (A) | |
| BHM | 7.11.92 | Sutton Coldfield(A) | |
| CSC2 | 10.11.92 | Buckingham Tn(H) | |
| BHM | 14.11.92 | Barri (H) | |
| BHM | 17.11.92 | GranthamTn (H) | |
| FAV2 | 21.11.92 | Gresley Rvrs (H) | |
| FAV2r | 24.11.92 | Gresley Rvrs (A) | |
| BHM | 28.11.92 | Evesham Utd (H) | |
| BHM | 5.12.92 | Dudley Town (A) | 1 goal |
| BHM | 12.12.92 | Newport AFC (H) | |
| BHM | 19.12.92 | Gresley Rvrs (A) | |
| BHM | 28.12.92 | Kings Lynn (H) | |
| BHM | 9.1.93 | Stourbridge (H) | as sub |
| CSC3 | 12.1.93 | Gresley Rvrs (H) | |
| BHM | 16.1.93 | Nuneaton Boro(A) | |
| BHM | 19.1.93 | Hinckley Town (H) | |
| BHM | 23.1.93 | Bedworth Utd (H) | |
| CSCQ | 26.1.93 | Stourbridge (A) | |
| BHM | 6.2.93 | Dudley Town (H) | |
| HSCSF | 9.2.93 | Long Buckby (A) | |
| BHM | 13.2.93 | Yate Town (A) | |
| BHM | 20.2.93 | Weston-s-Mare(H) | |
| BHM | 24.2.93 | Newport AFC (A) | |
| BHM | 27.2.93 | RC Warwick (A) | |
| BHM | 6.3.93 | Forest Green (H) | |
| BHM | 23.3.93 | RC Warwick (H) | |
| BHM | 27.3.93 | Tamworth (H) | |
| BHM | 30.3.93 | Leicester Utd (A) | |
| BHM | 3.4.93 | Bedworth Utd (A) | |
| BHM | 10.4.93 | Leicester Utd (H) | |
| BHM | 12.4.93 | Kings Lynn (A) | 1 goal |
| BHM | 17.4.93 | Sutton Coldfield(H) | |
| BHM | 22.4.93 | Stourbidge (A) | |
| BHM | 24.4.93 | Evesham Utd (A) | |
| HSCF | 27.4.93 | Kettering Town (A) | |
| BHM | 1.5.93 | Gresley Rovers(H) | 1 goal |
1993/1994
| | | | |
| --- | --- | --- | --- |
| BHM | 21.8.93 | Clevedon Town(H) | |
| BHM | 24.8.93 | Tamworth (A) | |
| FACp | 28.8.93 | Rocester (A) | |
| BHM | 30.8.93 | Bedworth Utd (H) | 1 goal |
| BHM | 4.9.93 | Stourbridge (A) | |
| DMCp/1 | 7.9.93 | Grantham Tn (A) | 1 goal |
| FAC1q | 11.9.93 | Sutton Coldf'ld(H) | |
| BHM | 14.9.93 | Kings Lynn (H) | |
| BHM | 18.9.93 | Bridgnorth Tn (A) | |
| DMCp/2 | 21.9.93 | Grantham Tn (H) | |
| FAC2q | 25.9.93 | Rothwell Town (H) | |
| FAC2qr | 28.9.93 | Rothwell Town (A) | |
| BHM | 2.10.93 | Dudley Town (A) | |
| FAC3q | 9.10.93 | BurtonAlbion (H) | |
| HSC1 | 12.10.93 | Cogenhoe Utd (H) | |
| FAT2q | 16.10.93 | Burton Albion (H) | |
| DMC1/1 | 19.10.93 | Bedworth Utd (H) | |
| FAC4q | 23.10.93 | BromsgroveRvs(H) | |
| DMC1/2 | 26.10.93 | Bedworth Utd (A) | |
| HSC2 | 30.11.93 | Rothwell Town(A) | |
| BHM | 4.12.93 | Dudley Town (H) | |
| DMC2r | 7.12.93 | CambridgeCity(A) | |
| BHM | 18.12.93 | Leicester Utd (A) | |
| BHM | 27.12.93 | VS Rugby (H) | |
| BHM | 1.1.94 | Grantham Tn (A) | |
| BHM | 3.1.94 | RC Warwick (H) | |
| BHM | 8.1.94 | Armitage 90 (A) | |
| BHM | 15.1.94 | Sutton Coldf'ld(H) | |
| BHM | 22.1.94 | Forest Green (A) | 2 goals |
| BHM | 26.1.94 | Newport AFC (A) | |
| BHM | 29.1.94 | Weston-s-M (A) | |
| BHM | 5.2.94 | Yate Town (H) | 1 goal |
| BHM | 8.2.94 | Kings Lynn (A) | |
| BHM | 12.2.94 | Evesham Utd (A) | 1 goal |
| BHM | 19.2.94 | Newport AFC (H) | |
| BHM | 26.2.94 | Leicester Utd (H) | |
| BHM | 1.3.94 | Bedworth Utd (A) | |
| BHM | 12.3.94 | Yate Town (A) | |
| BHM | 19.3.94 | Weston-s-M (H) | |
| BHM | 23.3.94 | Clevedon Town(A) | |
| BHM | 26.3.94 | Hinckley Town (A) | |
| HSCSF | 29.3.94 | Kettering Town(H) | |
| BHM | 2.4.94 | VS Rugby (A) | |
| BHM | 9.4.94 | RC Warwick (A) | |
| BHM | 12.4.94 | Grantham Tn (H) | |
| BHM | 16.4.94 | Armitage 90 (H) | |
| BHM | 23.4.94 | Sutton Coldf'ld(A) | 1 goal |
| HSCF | 26.4.94 | N'ton Spencer (H) | 1 goal |
| BHM | 30.4.94 | Evesham Utd (H) | |
| BHM | 2.5.94 | Forest Green (H) | |
| BHM | 7.5.94 | Redditch Utd (H) | 1 goal |
1994/1995
| | | | |
| --- | --- | --- | --- |
| MCF | 2.8.94 | Peterboro Utd (H) | |
| BHP | 20.8.94 | Cheltenham Tn (H) | |
| BHP | 23.8.94 | Gravesend&Nflt(A) | |
| BHP | 27.8.94 | Halesowen Tn (H) | |
| BHP | 29.8.94 | Trowbridge Tn (H) | 1 goal |
| FAT1rq | 17.9.94 | Hendon (H) | |
| FAT1r | 20.9.94 | Hendon (A) | |
| HSC1 | 27.9.94 | Desborough (H) | |
| BHP | 1.10.94 | Gresley Rovers (A) | |
| DMC1/1 | 4.10.94 | Rothwell Town (H) | |
| BHP | 8.10.94 | Crawley Town (H) | |
| FAT2q | 15.10.94 | Wembley (H) | |
| DMC1/2 | 18.10.94 | Rothwell Town (A) | |
| BHP | 22.10.94 | Dorchester Tn (A) | |
| HSC2 | 25.10.94 | N'ton Spencer (H) | |
| BHP | 29.10.94 | Gloucester City (H) | |
| BHP | 3.12.94 | Leek Town (A) | |
| BHP | 10.12.94 | Halesowen Tn (H) | |
| DMC3 | 14.12.94 | Baldock Town (H) | |
| BHP | 17.12.94 | Solihull Boro (H) | |
| BHP | 26.12.94 | Cambridge City (A) | |
| BHP | 31.12.94 | Hastings Town (A) | |
| BHP | 2.1.95 | Chelmsford City(H) | |
| BHP | 7.1.95 | Worcester City (H) | |
| BHP | 14.1.95 | VS Rugby (A) | |
| FAT3 | 4.3.95 | Halesowen Tn (H) | |
| DMCS/2 | 7.3.95 | Leek Town (A) | |
| BHP | 1.4.95 | Atherstone Utd (H) | |
| FATS/2 | 15.4.95 | Woking (A) | as sub |
| BHP | 17.4.95 | Cambridge City (H) | |
| BHP | 22.4.95 | Solihull Boro (A) | |
| BHP | 23.4.95 | Hastings Town (H) | |
| BHP | 24.4.95 | Chelmsford City(A) | |
| BHP | 26.4.95 | Sittingbourne (A) | |