Game 400 – 20 April 1999
Game 400
During the 1998/99 season Rushden & Diamonds reached the milestone of their 400th game.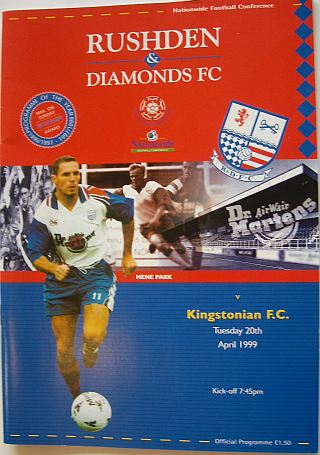 Saturday 20 April 1999
(Nationwide) Conference
Rushden & Diamonds 0 Kingstonian 0
Nene Park, Irthlingborough
A heart-breaking defeat at home to Cheltenham Town earlier in the month had all but ended Diamonds hopes of the Conference title. A draw at Woking, and another home defeat against Yeovil Town had left Diamonds now back in 4th place, while Kingstonian were in 9th position.
Darren Collins returned to the starting line-up after a three match suspension after his dismissal at Woking, but Mark Cooper was out with a one match ban. Kingstonian fielded two former Diamonds – defender Matt Crossley and striker David Leworthy. Also playing was full back Tarkan Mustafa, who was to join Diamonds after the following season.
Both sides played out a goal-less draw, although it was a game Diamonds should have won. Carl Heggs had a great chance on 13 minutes when he had just the keeper to beat, but a weak shot allowed Steve Farrelly to push the ball away. Moments later, Colin West scooped the ball over the bar from 4yards, but his collision with the Kingstonian keeper resulted in both players suffering injury. West was unable to continue, and Mequel de Souza replaced him, while Farrelly continued due to the lack of a substitute goalkeeper.
Despite the keeper struggling for some 70 minutes, Diamonds were only able to test him on one occasion when a Darren Collins shot from Paul Underwood's cross was blocked.
Having had the highest gate against Cheltenham some two weeks earlier, an attendance of 1818 was the first time the gate had fallen below 2000. A win would have lifted Diamonds up a place, but Cheltenham's draw against Forest Green Rovers meant they only required two points from their remaining four games to secure the Conference title.
Team: Andy Collett, Carl Heggs, Darren Bradshaw, Michael McElhatton, Jim Rodwell, Guy Branston, Jon Brady, Garry Butterworth, Colin West (Mequel de Souza 21), Darren Collins, Paul Underwood.
Attendance: 1818.
Statistics
| | | | | | | |
| --- | --- | --- | --- | --- | --- | --- |
| | P | W | D | L | F | A |
| | | | | | | |
| Southern League | 168 | 102 | 39 | 27 | 392 | 184 |
| Conference | 123 | 56 | 28 | 39 | 204 | 157 |
| | | | | | | |
| FA Cup | 32 | 18 | 7 | 7 | 59 | 28 |
| FA Trophy | 20 | 11 | 3 | 6 | 34 | 23 |
| FA Vase | 5 | 2 | 2 | 1 | 11 | 10 |
| League Cup | 27 | 15 | 5 | 7 | 50 | 37 |
| | | | | | | |
| Hillier Senior Cup | 23 | 16 | 2 | 5* | 60 | 19 |
| Maunsell Cup | 1 | 1 | 0 | 0 | 2 | 1 |
| Championship Shield | 1 | 1 | 0 | 0 | 3 | 0 |
| | | | | | | |
| Total | 400 | 222 | 86 | 92 | 815 | 459 |
(* = 1 game lost on penalty kicks)