Game 300 – 30 August 1997
Game 300
Early in the 1997/78 season Rushden & Diamonds reached the milestone of their 300th game.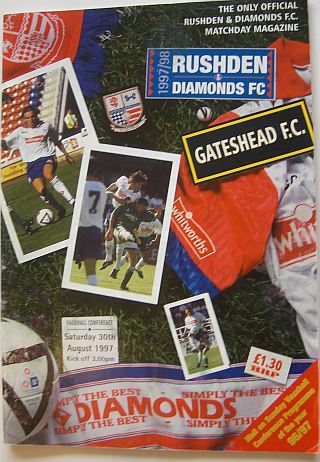 Saturday 30 August 1997
(Vauxhall) Conference
Rushden & Diamonds 3 Gateshead 2
Nene Park, Irthlingborough
Roger Ashby had been in charge of Diamonds for their first 282 games before Brian Talbot took over the reigns in March. Having avoided the threat of relegation in their first Conference season, Diamonds finished a respectable 12th, but the 1997/1998 season had got off to an awful start, with just one point from the opening four games and they were bottom of the League table.
Despite the poor form, Diamonds got off to a great start when Jamie Ndah's aerial presence created havoc in the penalty area after John Hamsher's right wing cross on 5 minutes. Michael Mison was on hand to poke the ball home for his first goal for the club.
On 19 minutes, they were two up when former Gateshead defender Kenny Cramman lifted a free kick into the area for Jamie Ndah to score with a powerful header. Darren Collins appeared to make the game safe on 37 minutes when he added a third with a near post header from a corner kick.
Despite looking comfortable, Diamonds nearly conspired to let the visitors back into the game. In the space of six second half minutes, Steve Bowey scrambled the ball home for Gateshead, before South African Under-21 debutant Graham Robinson, who had just signed from Whitby Town, added another when he glanced home a header. The goals made for a nervous final fifteen minutes, but they held on and the win lifted Diamonds off the bottom of the table.
Team: Steve Cherry, John Hamsher, Kenny Cramman, Michael Mison, Jim Rodwell, Andy Peaks, Gary Crosby, Garry Butterworth, Jamie Ndah (Carl Alford 69), Darren Collins, Brendan Hackett (Paul Underwood 69).
Goals: Michael Mison 5 (1-0), Jamie Ndah 19 (2-0), Darren Collins 37 (3-0), Steve Bowey 70 (3-1), Graham Robinson 76 (3-2).
Attendance: 2211.
Statistics
| | | | | | | |
| --- | --- | --- | --- | --- | --- | --- |
| | P | W | D | L | F | A |
| | | | | | | |
| Southern League | 168 | 102 | 39 | 27 | 392 | 184 |
| Conference | 47 | 15 | 12 | 20 | 65 | 71 |
| | | | | | | |
| FA Cup | 22 | 14 | 3 | 5 | 45 | 20 |
| FA Trophy | 14 | 8 | 2 | 4 | 25 | 15 |
| FA Vase | 5 | 2 | 2 | 1 | 11 | 10 |
| League Cup | 25 | 15 | 5 | 5 | 49 | 32 |
| | | | | | | |
| Hillier Senior Cup | 17 | 12 | 1 | 4# | 49 | 14 |
| Maunsell Cup | 1 | 1 | 0 | 0 | 2 | 1 |
| Championship Shield | 1 | 1 | 0 | 0 | 3 | 0 |
| | | | | | | |
| Total | 300 | 170 | 64 | 66 | 641 | 347 |
(# = 1 game lost on penalty kicks)