Game 100 – 12 February 1994
Game 100
During their second season in the Beazer Home Southern League Midland Division Rushden & Diamonds reached the milestone of their 100th game.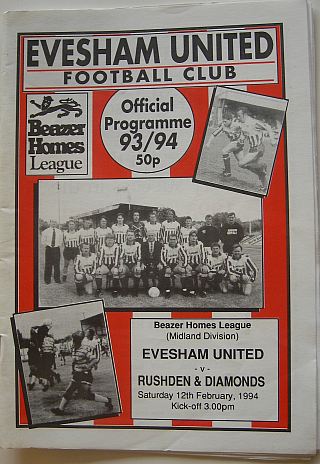 Saturday 12 February 1994
Southern League (Beazer Homes)
Midland Division
Evesham United 1 Rushden & Diamonds 4
Common Road, Evesham
Diamonds visited Common Road in 2nd position in the League table, six points behind VS Rugby, but with 3 games in hand, while the home side resided in 9th position.
Aidy Mann returned to the side after a ten week lay-off with damaged stomach muscles, and he replaced the suspended Andy Peaks.
Diamonds had an excellent start, taking the lead after just 5 minutes when Dale Watkins burst into the penalty area and pulled the ball back for Mickey Nuttell to blast into the top corner. The lead was short lived however as Dave Morbey equalised for the home side with a shot from 25yards which dipped over keeper Kevin Fox.
Despite the setback, Diamonds were allowed space to create several chances. Evesham keeper Billy Turley, later to join Rushden, kept the home side on level terms until just after the half time break. On 48 minutes, Mann's long ball forward was headed on by Nuttell to Dale Watkins, who appeared to be in an offside position. Despite appeals, the referee waved play on and Watkins played the ball in for Paul York to finish from close range.
On 56 minutes, Diamonds were awarded a penalty when Andy Ryan handled a Glen Beech corner – Nuttell sending the spot kick past Turley. The game was never in doubt and in the final ten minutes, centre half John Flower added a fourth, nodding home after Beech's free kick had been turned onto the post by Turley.
VS Rugby's surprise defeat at Dudley Town on the same afternoon saw Diamonds close in on their rivals.
Team: Kevin Fox, Tim Wooding, Dave Johnson, Jon Flower, Paul Richardson, Darrell Page, Glen Beech, Aidy Mann (Paul Coe 83), Mickey Nuttell, Dale Watkins, Paul York.
Goals: Mickey Nuttell 5 (0-1), Dave Morbey 8 (1-1), Paul York 48 (1-2), Mickey Nuttell 56pen (1-3), John Flower 82 (1-4).
Attendance: 244
Statistics
| | | | | | | |
| --- | --- | --- | --- | --- | --- | --- |
| | P | W | D | L | F | A |
| | | | | | | |
| Southern League | 67 | 42 | 16 | 9 | 147 | 64 |
| | | | | | | |
| FA Cup | 9 | 6 | 1 | 2 | 15 | 8 |
| FA Trophy | 1 | 0 | 0 | 1 | 0 | 1 |
| FA Vase | 5 | 2 | 2 | 1 | 11 | 10 |
| League Cup | 12 | 7 | 3 | 2 | 30 | 19 |
| | | | | | | |
| Hillier Senior Cup | 6 | 5 | 0 | 1 | 18 | 4 |
| | | | | | | |
| Total | 100 | 62 | 22 | 16 | 221 | 106 |