Dale Watkins
Dale Watkins
Born 4 November 1971 (Age 21 at debut)
Position: Forward
(Diamonds player #25)
Total appearances 162 – 98 goals
(118 League, 11 FA Cup, 9 FA Trophy, 13 League Cup, 10 Hillier Senior Cup, 1 Maunsell Cup)
Debut:
16 January 1993 (Away Nuneaton Borough)
Final game:
4 May 1996 (Home Merthyr Tydfil)
As his record at Nene Park indicates, Dale is regarded as one of the most prolific goalscorers in non-league football. The pacy striker joined Diamonds from Grantham Town in January 1993 after Diamonds had agreed a £6,000 fee, having come to Roger Ashby's attention while scoring for the Gingerbreads earlier in the season. He had started his career at Sheffield United, with loan spells at Grimsby Town and Rotherham United before joining Peterborough United. It was in the summer of 1991 that he dropped down to non-league football with Peterborough City and Wisbech Town before joining Grantham Town. His debut comprised of a two minute substitute appearance at Nuneaton Borough on 16 January 1993, but his home debut three days later was a little more memorable, scoring a hat-trick – the first of six in his four seasons at Nene Park. He scored 13 goals in his first season, then the following season, he netted 34 after pairing with Mickey Nuttell – a partnership which won Diamonds the Beazer Homes Midland Division title. The 1994 / 1995 season saw him go one better, the partnership with Darren Collins yielding a total of 63 goals. Despite scoring 12 goals in 17 games the following year, he lost his place, and most of his appearances were off the bench. The arrival of Carl Alford in March 1996 saw his days numbered and at the end of the season, he joined Gloucester City on a free transfer.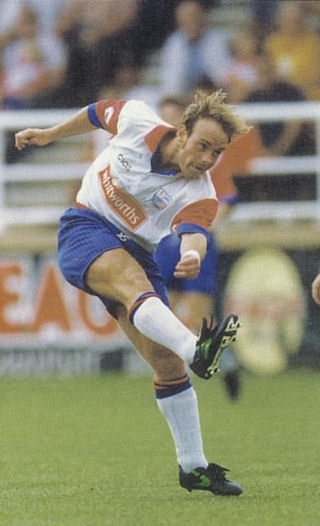 He subsequently joined Cheltenham Town for £12,000 a year later and scored when Diamonds visited Whaddon Road the following season, and again when Diamonds played the Robins in the FA Trophy. He could in fact have scored a hat-trick had it not been for the heroics of Mark Smith in the Diamonds, who also saved a penalty from Dale. A loan move to Kettering Town in January 2000 led to a permanent move following an agreed £22,000 compensation. He left the Poppies in 2003, and subsequently played for Chelmsford City, Grantham Town, Kings Lynn, Stamford, Yaxley, Blackstones and he ended his playing career back with Yaxley in 2006.
Appearances
1992/1993
| | | | |
| --- | --- | --- | --- |
| BHM | 16.1.93 | Nuneaton Boro (A) | as sub |
| BHM | 19.1.93 | Hinckley Town (H) | 3 goals |
| BHM | 23.1.93 | Bedworth Utd (H) | 1 goal |
| CSCQ | 26.1.93 | Stourbridge (A) | |
| BHM | 30.1.93 | Tamworth (A) | |
| CSCQr | 2.2.93 | Stourbridge (H) | 1 goal |
| BHM | 6.2.93 | Dudley Town (H) | 2 goals |
| BHM | 24.2.93 | Newport AFC (A) | as sub |
| BHM | 27.2.93 | RC Warwick (A) | 2 goals |
| BHM | 13.3.93 | Barri (A) | |
| BHM | 18.3.93 | Nuneaton Boro (H) | |
| BHM | 23.3.93 | RC Warwick (H) | 1 goal |
| BHM | 27.3.93 | Tamworth (H) | |
| BHM | 30.3.93 | Leicester Utd (A) | |
| BHM | 3.4.93 | Bedworth Utd (A) | 1 goal |
| BHM | 10.4.93 | Leicester Utd (H) | 1 goal |
| BHM | 12.4.93 | Kings Lynn (A) | |
| BHM | 17.4.93 | Sutton Coldfield(H) | |
| BHM | 22.4.93 | Stourbidge (A) | |
| BHM | 24.4.93 | Evesham Utd (A) | 1 goal |
| HSCF | 27.4.93 | Kettering Town (A) | |
| BHM | 1.5.93 | Gresley Rvrs (H) | |
1993/1994
| | | | |
| --- | --- | --- | --- |
| BHM | 21.8.93 | Clevedon Town(H) | 1 goal |
| BHM | 24.8.93 | Tamworth (A) | |
| FACp | 28.8.93 | Rocester (A) | |
| BHM | 30.8.93 | Bedworth Utd (H) | |
| BHM | 4.9.93 | Stourbridge (A) | |
| DMCp/1 | 7.9.93 | Grantham Tn (A) | 1 goal |
| FAC1q | 11.9.93 | Sutton C'dfield(H) | 1 goal |
| BHM | 14.9.93 | Kings Lynn (H) | |
| BHM | 18.9.93 | Bridgnorth Tn (A) | |
| DMCp/2 | 21.9.93 | Grantham Tn (H) | 1 goal |
| FAC2q | 25.9.93 | Rothwell Town (H) | |
| FAC2qr | 28.9.93 | Rothwell Town (A) | 2 goals |
| BHM | 2.10.93 | Dudley Town (A) | |
| FAC3q | 9.10.93 | BurtonAlbion (H) | 1 goal |
| HSC1 | 12.10.93 | Cogenhoe Utd (H) | 1 goal |
| FAT2q | 16.10.93 | Burton Albion (H) | |
| DMC1/1 | 19.10.93 | Bedworth Utd (H) | 1 goal |
| FAC4q | 23.10.93 | Bromsgrove R (H) | |
| BHM | 30.10.93 | Redditch Utd (A) | 1 goal |
| BHM | 6.11.93 | Hinckley Town (H) | |
| BHM | 13.11.93 | Bilston Town (H) | 1 goal |
| BHM | 20.11.93 | Tamworth (H) | 1 goal |
| BHM | 27.11.93 | Stourbridge (H) | 3 goals |
| BHM | 27.12.93 | VS Rugby (H) | |
| BHM | 1.1.94 | Grantham Tn (A) | |
| BHM | 3.1.94 | RC Warwick (H) | |
| BHM | 8.1.94 | Armitage 90 (A) | 1 goal |
| BHM | 15.1.94 | Sutton C'dfield(H) | 1 goal |
| BHM | 22.1.94 | Forest Green (A) | 1 goal |
| BHM | 26.1.94 | Newport AFC (A) | 1 goal |
| BHM | 29.1.94 | WestonsMare(A) | |
| BHM | 5.2.94 | Yate Town (H) | |
| BHM | 8.2.94 | Kings Lynn (A) | 1 goal |
| BHM | 12.2.94 | Evesham Utd (A) | |
| BHM | 19.2.94 | Newport AFC (H) | 1 goal |
| BHM | 26.2.94 | Leicester Utd (H) | |
| BHM | 1.3.94 | Bedworth Utd (A) | 1 goal |
| BHM | 5.3.94 | Bilston Town (A) | 1 goal |
| BHM | 8.3.94 | Bridgnorth Tn (H) | |
| BHM | 12.3.94 | Yate Town (A) | 1 goal |
| BHM | 19.3.94 | WestonsMare(H) | 1 goal |
| BHM | 23.3.94 | Clevedon Town(A) | |
| BHM | 26.3.94 | Hinckley Town(A) | 2 goals |
| HSCSF | 29.3.94 | Kettering Town(H) | |
| BHM | 2.4.94 | VS Rugby (A) | |
| BHM | 9.4.94 | RC Warwick (A) | 1 goal |
| BHM | 12.4.94 | Grantham Tn (H) | 1 goal |
| BHM | 16.4.94 | Armitage 90 (H) | |
| BHM | 23.4.94 | Sutton C'dfield(A) | |
| HSCF | 26.4.94 | N'ton Spencer (H) | 3 goals |
| BHM | 30.4.94 | Evesham Utd (H) | |
| BHM | 2.5.94 | Forest Green (H) | 1 goal |
| BHM | 7.5.94 | Redditch Utd (H) | 1 goal |
1994/1995
| | | | |
| --- | --- | --- | --- |
| MCF | 2.8.94 | Peterboro Utd (H) | 1 goal |
| BHP | 20.8.94 | Cheltenham Tn(H) | |
| BHP | 23.8.94 | Gravesend&Nflt(A) | 1 goal |
| BHP | 27.8.94 | Halesowen Tn (H) | 1 goal |
| BHP | 29.8.94 | Trowbridge Tn (H) | |
| BHP | 3.9.94 | BurtonAlbion (H) | 2 goals |
| BHP | 6.9.94 | Crawley Town (A) | 1 goal |
| FAC1q | 10.9.94 | Eastwood H'ley(A) | |
| FAT1rq | 17.9.94 | Hendon (H) | |
| FAT1r | 20.9.94 | Hendon (A) | 2 goals |
| HSC1 | 27.9.94 | Desborough (H) | 2 goals |
| BHP | 1.10.94 | Gresley Rovers(A) | 1 goal |
| DMC1/1 | 4.10.94 | Rothwell Town (H) | |
| BHP | 8.10.94 | Crawley Town (H) | 2 goals |
| FAT2q | 15.10.94 | Wembley (H) | |
| BHP | 22.10.94 | Dorchester Tn (A) | 1 goal |
| HSC2 | 25.10.94 | N'ton Spencer (H) | |
| BHP | 29.10.94 | Gloucester City(H) | |
| BHP | 5.11.94 | Burton Albion (A) | |
| DMC2 | 8.11.94 | Bedworth Utd (H) | 1 goal |
| BHP | 12.11.94 | VS Rigby (H) | 1 goal |
| BHP | 15.11.94 | Trowbridge Tn(A) | 1 goal |
| BHP | 19.11.94 | Corby Town(A) | |
| BHP | 26.12.94 | Cambridge City(A) | 3 goals |
| BHP | 31.12.94 | Hastings Town(A) | 1 goal |
| BHP | 2.1.95 | Chelmsford City(H) | 2 goals |
| BHP | 7.1.95 | Worcester City(H) | |
| BHP | 14.1.95 | VS Rugby (A) | |
| DMCQ | 16.1.95 | Worcester City(A) | |
| FAT1 | 24.1.95 | Sudbury Town(H) | 1 goal |
| BHP | 28.1.95 | Cheltenham Tn(A) | |
| BHP | 4.2.95 | Sittingbourne (H) | 1 goal |
| DMCQr | 7.2.95 | Worcester City(H) | |
| BHP | 18.2.95 | Atherstone Utd(A) | 3 goals |
| FAT2 | 20.2.95 | Farnborough T (A) | 1 goal |
| BHP | 25.2.95 | Gresley Rovers(H) | |
| DMCS/1 | 28.2.95 | Leek Town (H) | 1 goal |
| FAT3 | 4.3.95 | Halesowen Tn (H) | 1 goal |
| DMCS/2 | 7.3.95 | Leek Town (A) | |
| BHP | 11.3.95 | Corby Town (H) | 3 goals |
| BHP | 18.3.95 | Gloucester City(A) | |
| BHP | 21.3.95 | Leek Town (H) | 1 goal |
| FATS/2 | 15.4.95 | Woking (A) | |
| BHP | 17.4.95 | Cambridge City(H) | |
| BHP | 22.4.95 | Solihull Boro (A) | |
| BHP | 23.4.95 | Hastings Town (H) | as sub |
| BHP | 6.5.95 | Sudbury Town (H) | as sub |
1995/1996
HSCF

29.7.95

Kettering Tn (H)

BHP

21.8.95

Chelmsford City(A)

as sub

1 goal

BHP

26.8.95

Crawley Town (H)

2 goals

BHP

28.8.95

Burton Albion (A)

1 goal

BHP

2.9.95

Hastings Town(A)

1 goal

NHP

5.9.95

VS Rugby (H)

3 goals

FAC1q

9.9.95

Grantham Town(H)

BHP

16.9.95

Worcester City(A)

BHP

19.9.95

Chelmsford City(H)

FAC2q

23.9.95

Eastwood H'ley(H)

BHP

30.9.95

Cheltenham Tn (A)

FAC4r

24.10.95

Purfleet (H)

1 goal

BHP

28.10.95

Merthyr Tydfil (A)

as sub

1 goal

DMC1/1

1.11.95

Kings Lynn (H)

BHP

4.11.95

Stafford Rgrs (H)

1 goal

HSCQF

7.11.95

Long Buckby (H)

1 goal

FAC1

11.11.95

Cardiff City (H)

BHP

15.11.95

VS Rugby (A)

as sub

BHP

25.11.95

Atherstone Utd(H)

as sub

BHP

28.11.95

Baldock Town (H)

as sub

DMC1/2

5.12.95

Kings Lynn (A)

BHP

9.12.95

Dorchester Tn (A)

as sub

BHP

12.12.95

Gloucester City(H)

as sub

BHP

16.12.95

Hastings Town(H)

as sub

1 goal

BHP

23.12.95

Ilkeston Town (H)

as sub

1 goal

FAT1

20.1.96

Purfleet (H)

as sub

HSCSF

30.1.96

Raunds Town (H)

as sub

BHP

3.2.96

Worcester City(H)

BHP

10.2.96

Gravesend&Nflt(H)

1 goal

BHP

13.2.96

Baldock Town (A)

BHP

17.2.96

Cheltenham Tn(H)

1 goal

BHP

24.2.96

Newport (A)

as sub

BHP

5.3.96

Sudbury Town (H)

BHP

16.3.96

Cambridge City(A)

as sub

BHP

19.3.96

Halesowen Tn (A)

as sub

BHP

23.3.96

Ilkeston Town (A)

as sub

HSCF

26.3.96

Rothwell Town (A)

as sub

BHP

4.4.96

Dorchester Tn (H)

as sub

BHP

24.4.96

Salisbury City (A)

as sub

BHP

4.5.96

Merthyr Tydfil (H)

as sub