Matt Pattison
Matt Pattison
Born 24 March 1984 (Age 25 at debut)
Position: Midfielder
(Diamonds player #326)
Total appearances 31 – 2 goals
(26 League, 3 FA Cup, 1 FA Trophy, 1 Hillier Senior Cup)
Debut:
18 August 2009 (Home Hayes & Yeading United)
Final game:
3 May 2010 (Away Oxford United)
Matt began his career as an eighteen year old with Isthmian League side Camberley Town, before stepping up to Conference football, joining Farnborough Town in July 2003. A brief loan spell with Kingstonian followed in 2004, but after four years at Cherrywood Road, he found himself without a club after they were wound up due to financial problems. He joined Woking in June 2007, making some fine performances on the right wing, but also able to play down the left. He was released by Woking in May 2009, after they also suffered financial problems, and was snapped up by Diamonds, signing a one year deal (with one year option) on 16 June 2009.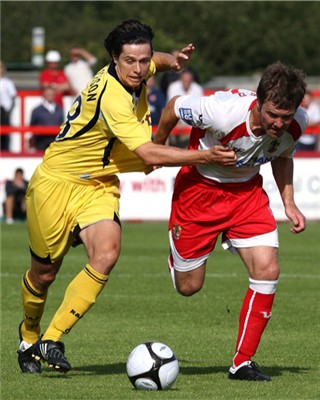 Matt made his Diamonds debut on 18 August 2009 in the 2-1 victory over Hayes & Yeading United, and scored the first of his two goals for the club in the 6-1 victory at Barrow on 5 September 2009.
With first team opportunities limited, he found himself on the bench particularly during the latter part of the campaign, and he was released at the end of the season joining Conference South side Basingstoke Town on 25 May 2010. After one season at the Camrose, Matt re-joined Conference South side Farnborough prior to the 2011/2012 season, but was released by mutual consent on 7 October 2011, joining Isthmian Division One South side Walton & Hersham. On 30 December 2011, he stepped up to re-join Isthmian Premier side Kingstonian. After winning the "Player of the Season" title the following season, he found himself out of favour at the start of the 2013/2014 season, and went on a one month loan to Isthmian Premier side Metropolitan Police in November 2013, before making the move permanent.
Appearances
2009/2010 – squad number 18
| | | | |
| --- | --- | --- | --- |
| Conf | 18.8.09 | Hayes&Yeading(H) |   |
| Conf | 22.8.09 | Forest Gn Rvs (H) |   |
| Conf | 29.8.09 | Stevenage Boro(A) |   |
| Conf | 31.8.09 | Cambridge Utd (H) |   |
| Conf | 5.9.09 | Barrow (A) | 1 goal |
| Conf | 8.9.09 | Ebbsfleet Utd (A) |   |
| Conf | 12.9.09 | Grays Athletic (H) | 1 goal |
| Conf | 19.9.09 | Mansfield Tn (H) |   |
| Conf | 22.9.09 | Gateshead (A) |   |
| Conf | 26.9.09 | Crawley Tn (A) |   |
| Conf | 29.9.09 | Wimbledon (H) |   |
| Conf | 3.10.09 | Altrincham (H) |   |
| Conf | 17.10.09 | Tamworth (H) | as sub |
| FAC4q | 24.10.09 | Workington (A) | as sub |
| Conf | 31.10.09 | Luton Town (A) | as sub |
| FAC1 | 7.11.09 | Hinckley Utd (A) | as sub |
| Conf | 14.11.09 | Histon (H) | as sub |
| HSCQF | 17.11.09 | Kettering Tn (H) |   |
| Conf | 21.11.09 | Salisbury City (A) |   |
| FAC2 | 28.11.09 | Brighton&HA (A) | as sub |
| Conf | 5.12.09 | Forest Gn Rvrs(A) | as sub |
| FAT1 | 12.12.09 | Billericay Tn (H) | as sub |
| Conf | 23.1.10 | Barrow (H) | as sub |
| Conf | 6.2.10 | Grays Athletic (A) | as sub |
| Conf | 3.3.10 | Histon (A) | as sub |
| Conf | 6.3.10 | Tamworth (A) |   |
| Conf | 20.3.10 | Altrincham (A) | as sub |
| Conf | 13.4.10 | Mansfield Tn (A) |   |
| Conf | 17.4.10 | Wrexham (A) |   |
| Conf | 24.4.10 | Luton Tn (H) |   |
| POSF2 | 3.5.10 | Oxford Utd (A) | as sub |